Hi Huneybees,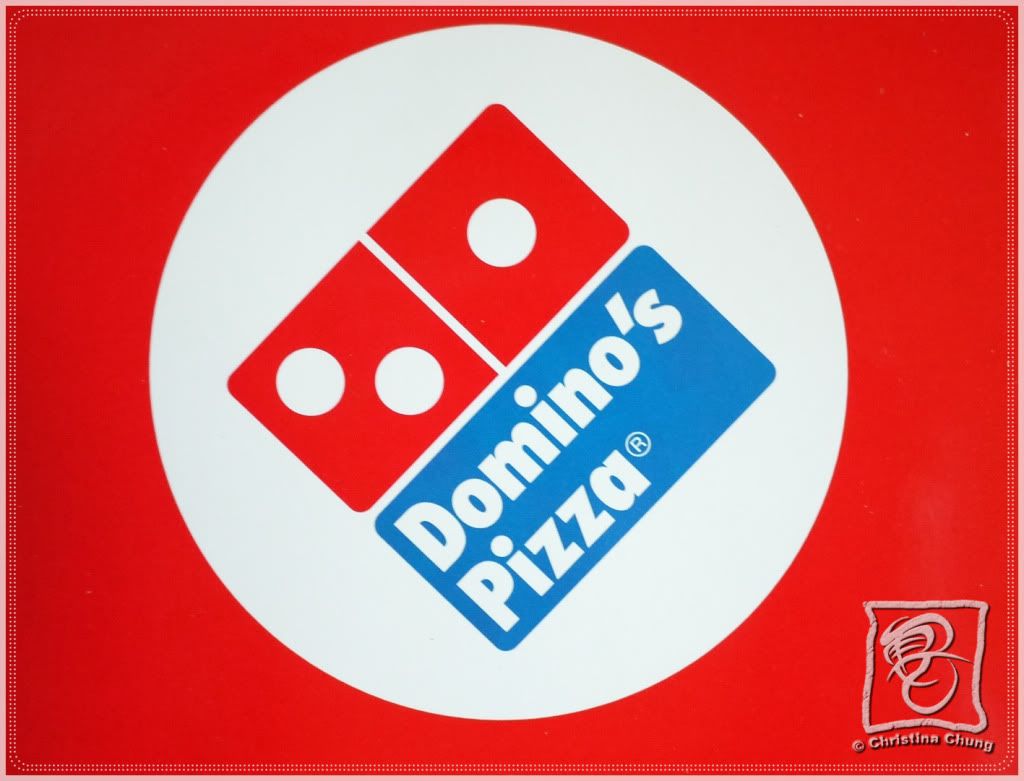 Click on me to go to Domino's Pizza Singapore website.
30 minute delivery guarantee
Product satisfaction guarantee
Free delivery
Nett Pricing <-- Which I think is amazing as some tends to be priced before GST and the bill comes more than expected.
"At Domino's, we emphasis on a customer-centric strategy when it comes to product development. A critical factor in Domino's success is a menu that is constantly evolving and expanding to cater to the growing and varied preferences of our customers. In the Singapore market, we found that cheese is a popular ingredient that resonates well with all our pizza fans. We are very excited to launch the Cheese Burst Crust as it represents the ongoing continuation of the company's development here."
Now introducing the main leads to us, the bloggers. The ALL NEW Domino's Pizza Cheese Burst Crust has the ultimate mouth-watering burst of heavenly creamy cheddar cheese sauce, definitely the most indulgent cheese loaded crust!!!
As suggested by the name, the Cheese Burst Crust is loaded with irresistible creamy cheddar cheese sauce, oozing from between 2 signature Crunchy Thin Crusts. The rich, creamy cheddar cheese will instantly burst into your mouth, BURSTING with divine cheesy goodness that will leave you craving for more....
The Domino's Cheese Burst represents the 4th crust to be launched in Singapore along with the Classic Hand Tossed, Crunchy Thin Crust and New York Crust and is available in any toppings or sauce combination.
So let's check out the Cheese Burst Crust pizzas we had that day:
Hawaiian Paradise:
100% Mozarella Cheese with Succulent Smoked Chicken Breast, Turkey Ham and Juicy Pineapples. Surfs Up Guys!
This is on the top of my list!
Classic Pepperoni:
The all time favourite with 100% Mozarella Cheese and generous portions of Beef Pepperoni.
Extravaganzza:
100% Mozarella Cheese with Beef Pepperoni, Cabanossi, Ground Beef, Fresh Onions, Green Pepper, Mushroom and Ripe Olives. World Famous!
Chilli Chicken:
100% Mozarella Cheese with Succulent Smoked Chicken Breast, Onion, Red Pepper and Chilli Flakes.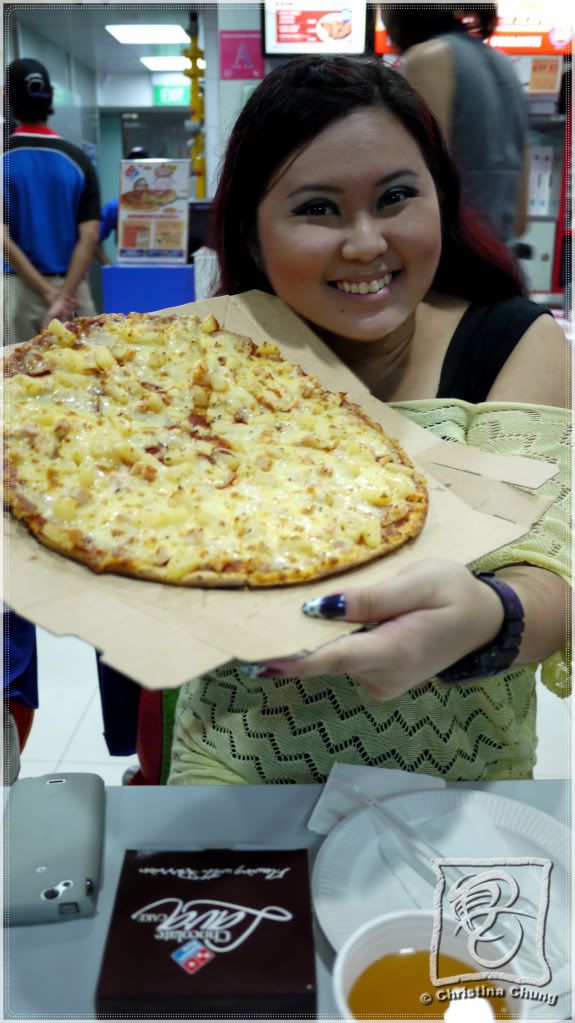 See how big the pizza is?!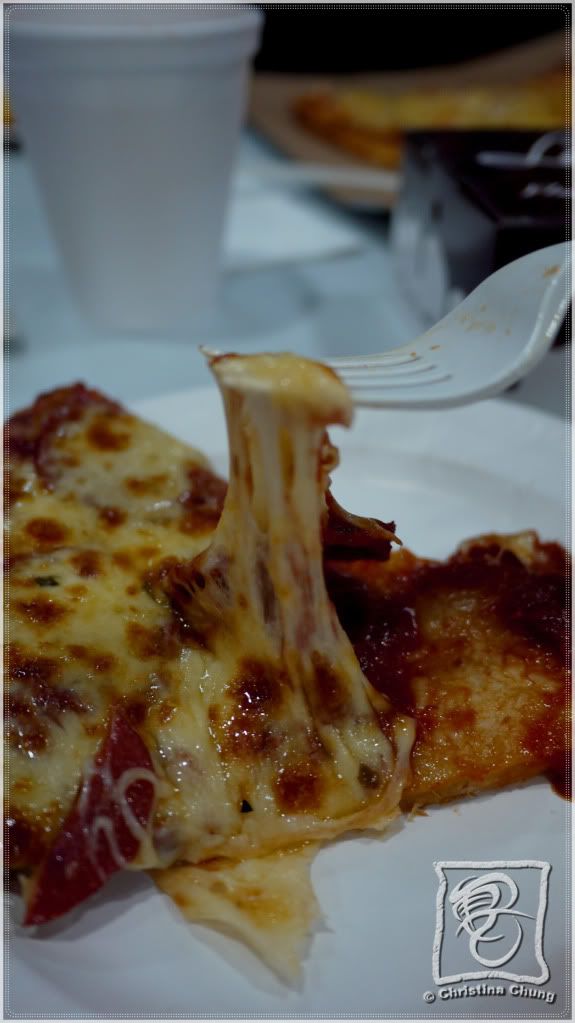 Cheeeeeeeese!!!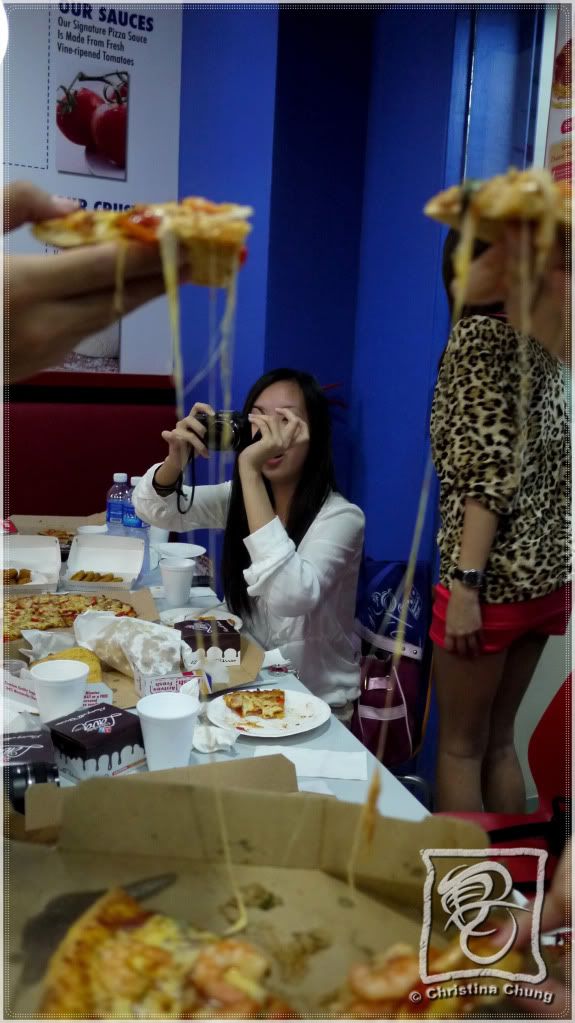 Cheese got us all camera frenzy...
Then, there were the side orders:
Ok, on the left, it's the
Garlic Cheese Onion Rings
(Delicious Onion Rings baked to perfection and coated with Garlic Cheese seasoning). In the center on top is the
Crazy Chicken Crunchies Spicy Tom Yam
(Tender Chicken bites with Tom Yam Dip), which I think is very unique and tasty with a tangy twist. On the right is the
Golden Roasted Drummet
(NEW addition: Savour the perfect combination of savoury and lip-smacking goodness; and sink your teeth into this oven-baked goodness that just slides off the bone) Super yummy! MUST try!
Trust me guys! This all new
Chocolate Lava Cake
is a to die for! Sinful yet satisfying I swore I could have eaten 5 of these myself! It is only $3.80 when you purchase it online with a minimum regular pizza at least.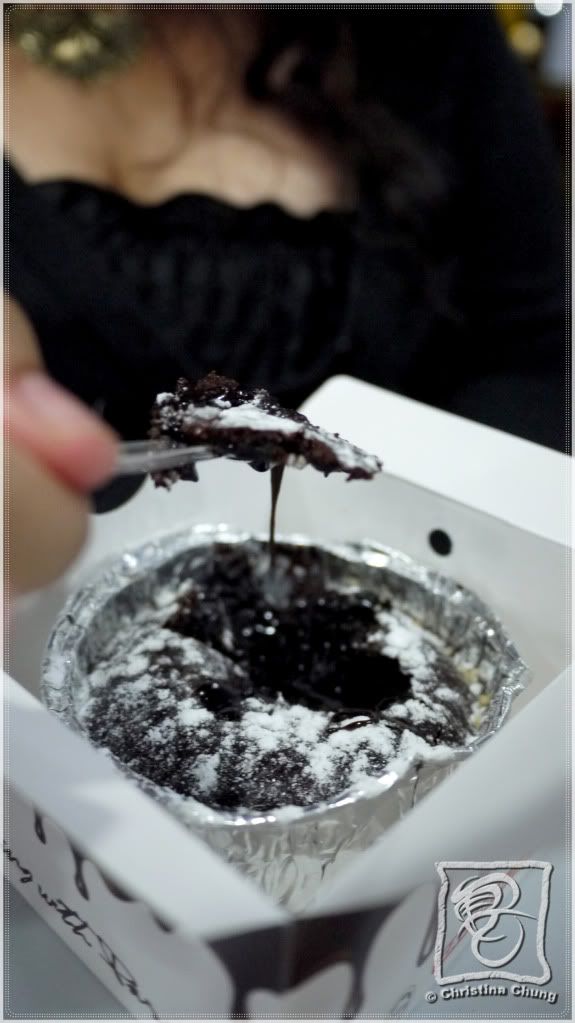 See this?! I'm not lying right?! It's overflowing with Choc full of awesome-ness!
This is something that makes Domino's Pizza so awesome. In 2010, they became the first to introduce the 'GPS Tracker' of the 'Great Pizza Service Tracker', which allows the customers the added convenience to keep tabs on the status of their food order from the moment it is ordered to the moment it leaves the store for delivery, enhancing the customer experience. Let me show you what I mean.
At 7.50pm, an order for pizza and some sides was ordered online.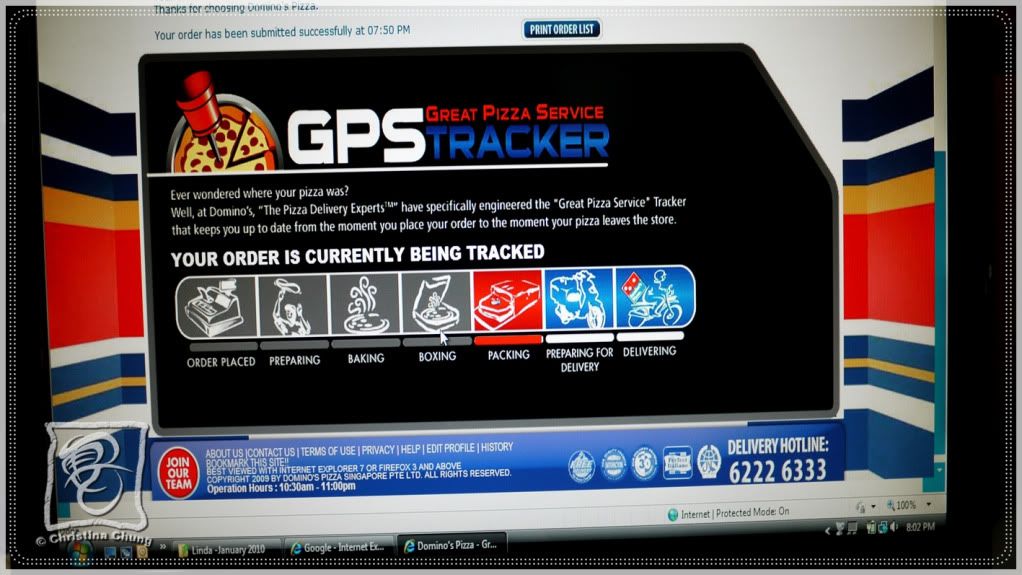 At 8.02pm, the order was ready is packed to leave the store. Customers can see the 'process' as they wait for the food to be delivered to their doorstep.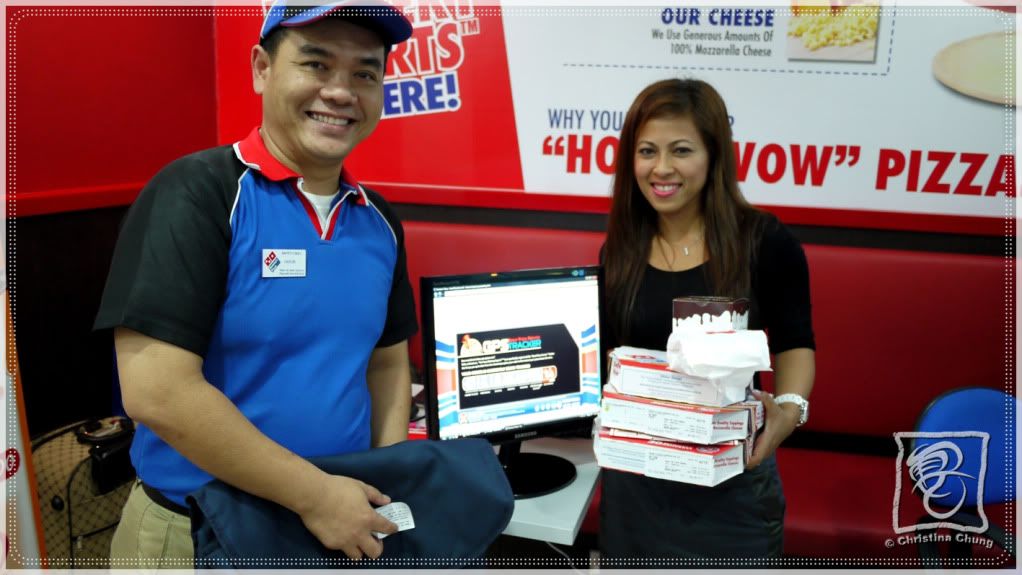 Voila! Within 30 minutes, piping hot food was delivered!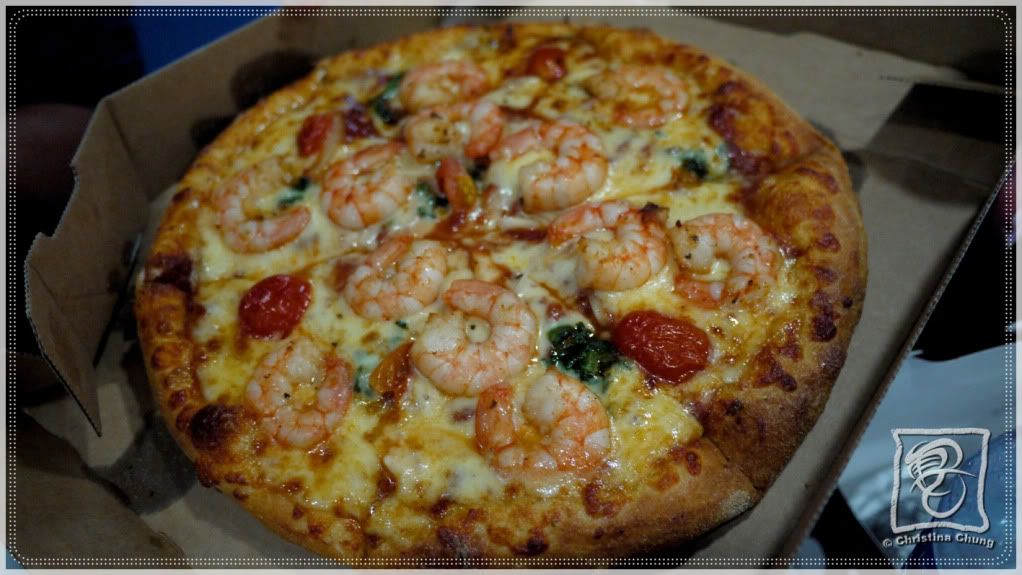 We got to taste the Prawn Sensation as well, but this is in the Classic Hand Tossed Crust.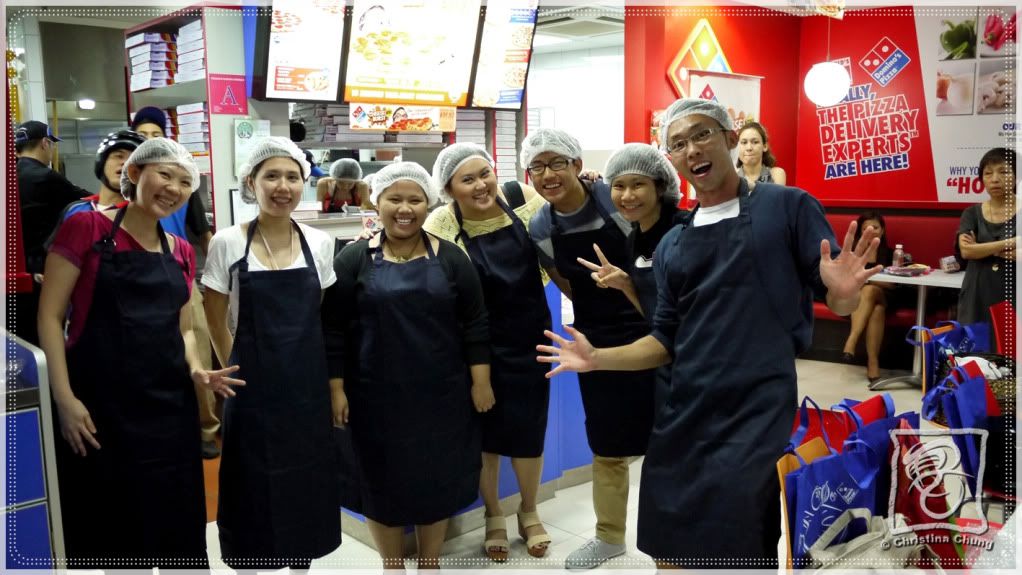 Can you guess why we are dressed like this?
So, the time has come for us to step into the kitchen and try our hands at pizza making....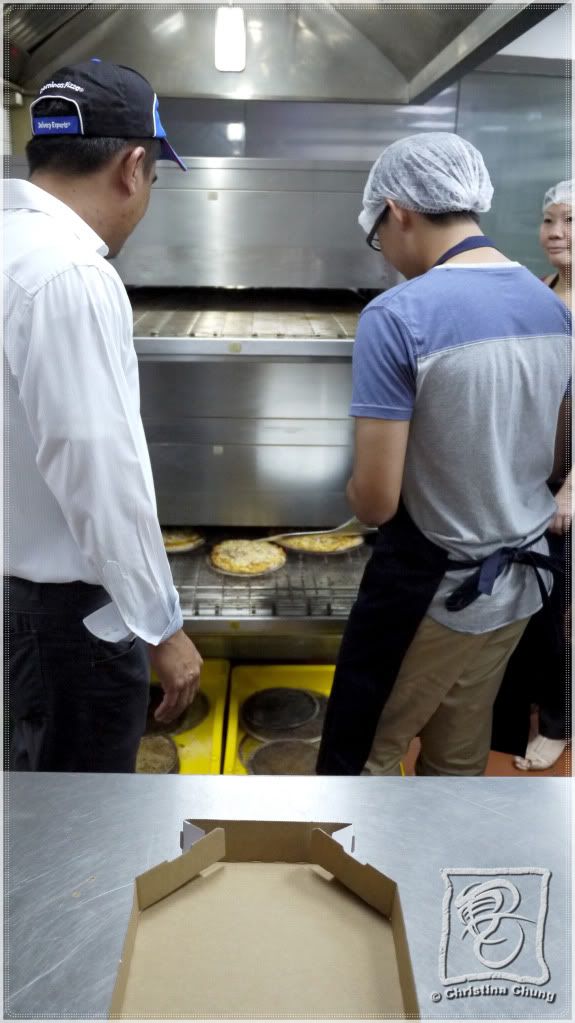 After we have kneaded the dough and placed the ingredients on our pizzas, we waited for 5 minutes and 20 seconds for our pizzas to go through the oven.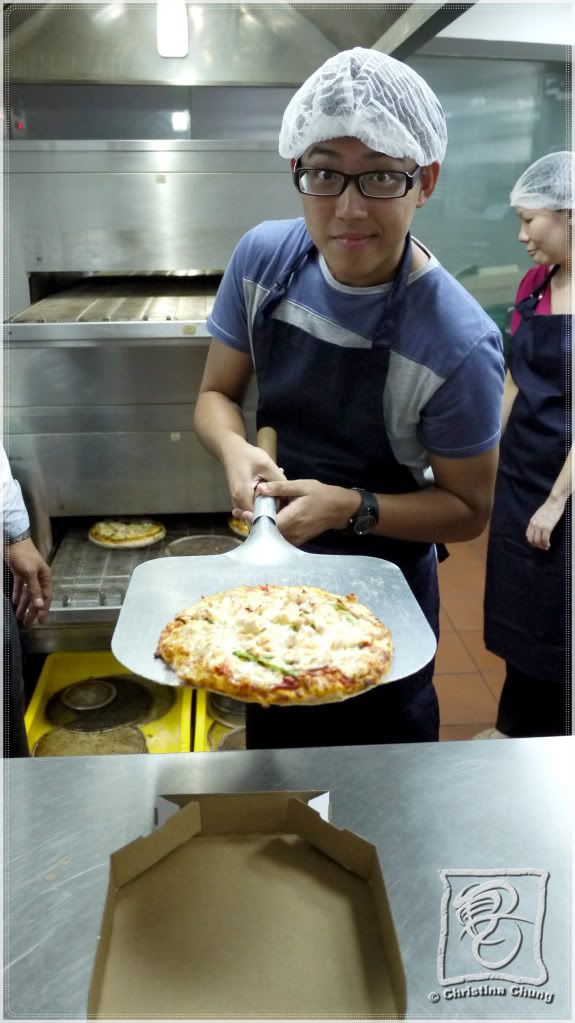 Woots! We were given this huge spatula to swoop the pizza up in one full swipe and placed it in the box to be sliced.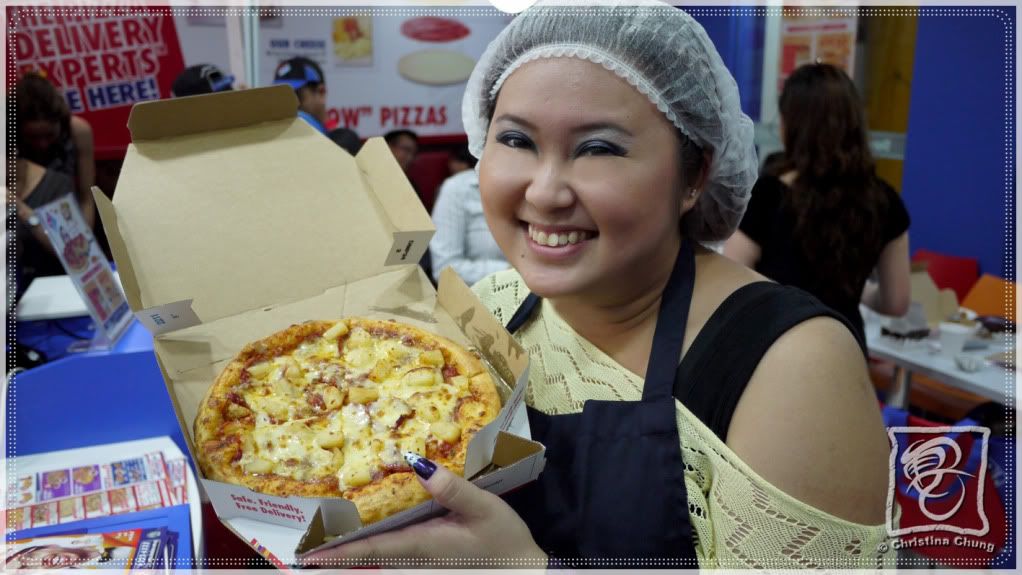 This was my creation.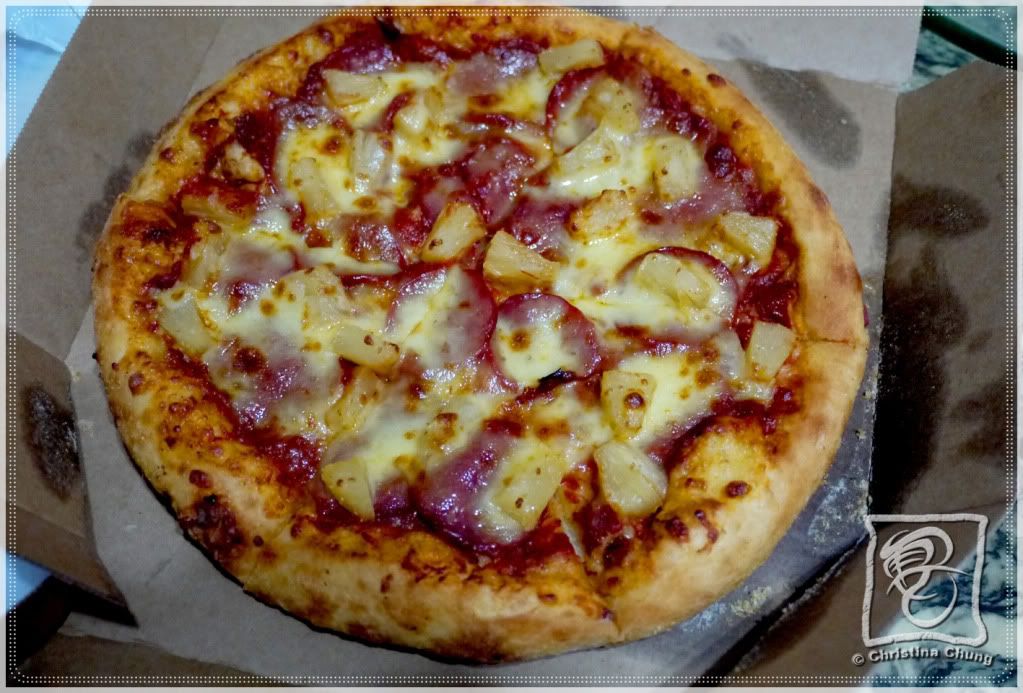 Pepperoni and Pineapples.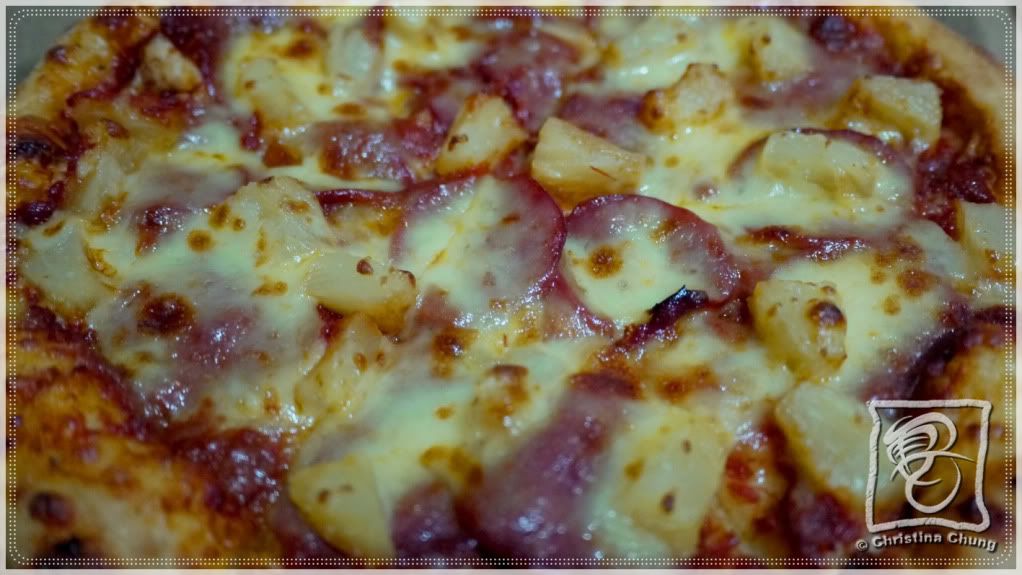 Yum Yum!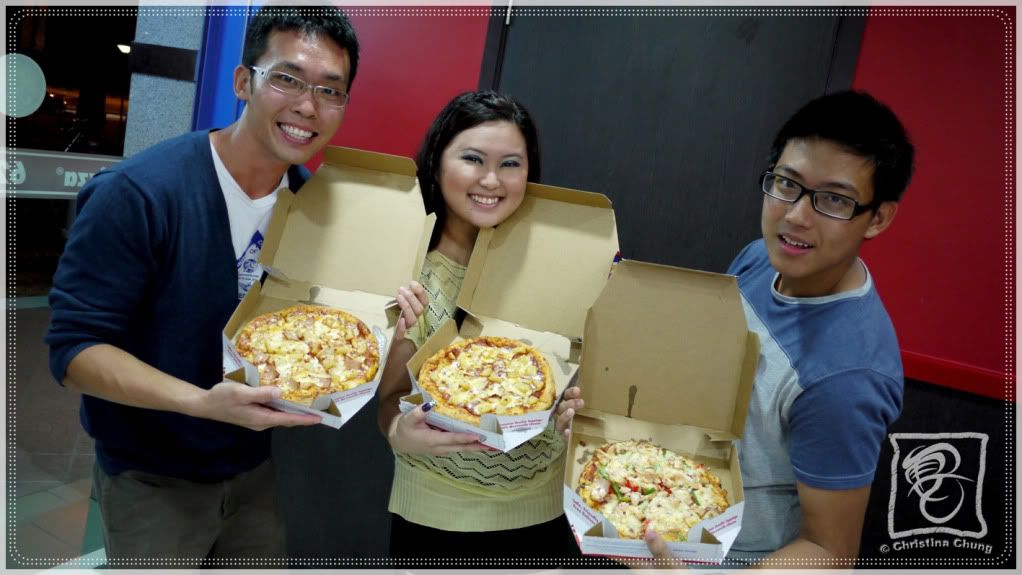 3 very happy bloggers and their pizzas.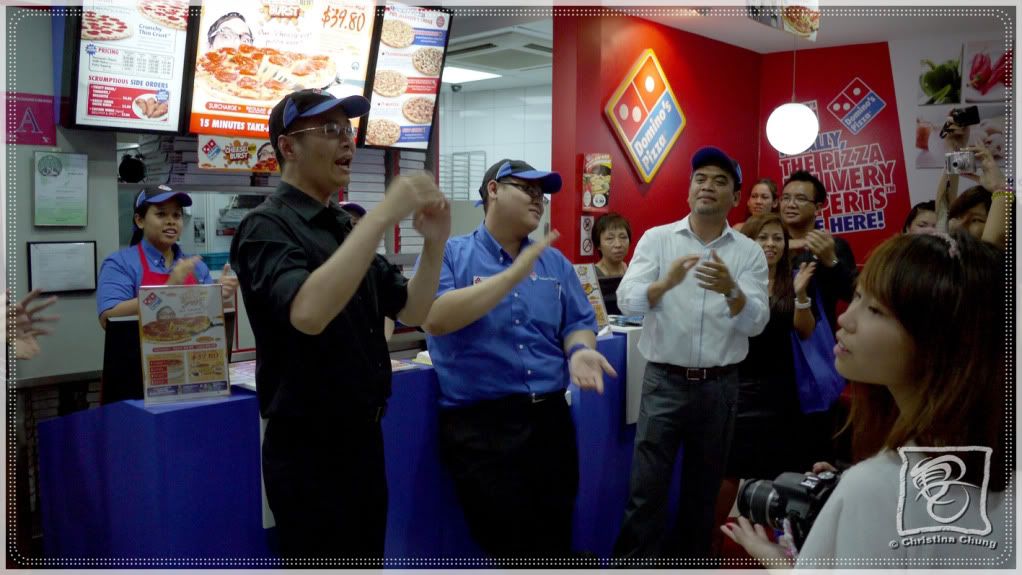 The Domino's Pizza crew then did their cheer.
A shot with Mr Ba U Shan-Ting himself.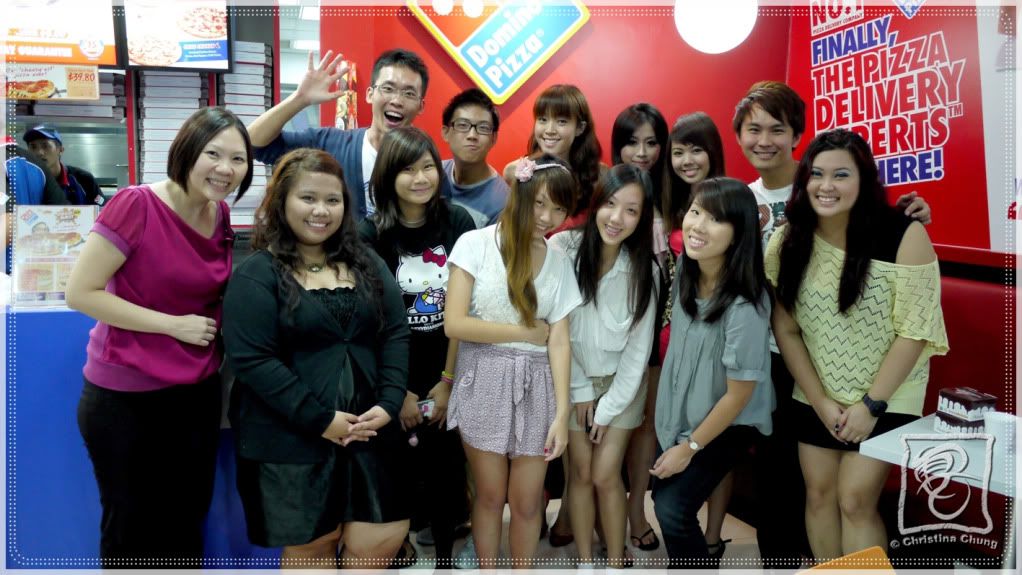 All the bloggers.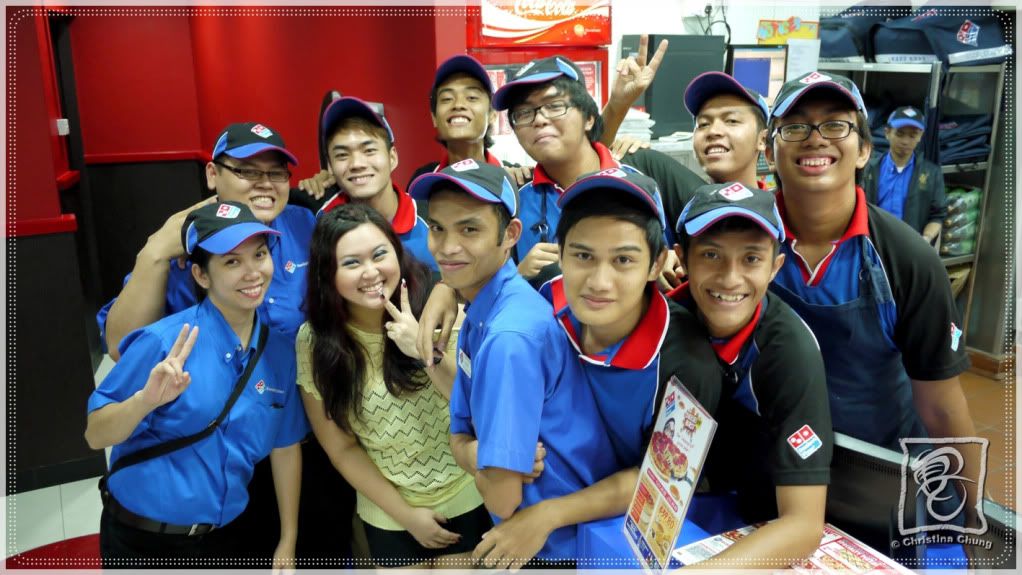 The very friendly and helpful staff.
As an introductory offer, Domino's Pizza is offering the Cheese Burst Meal for a limited time only. For just $39.80 (savings of $20.90), the meal comes complete with 1 Regular Cheese Burst Pizza, 1 Regular Pizza of your choice, 1 Chocolate Lava Cake and a choice of either 1 Twisty Bread (6pcs) or 1 Breadstix or 1 CinnaStix.
For online purchases, Golden Roasted Drummet or Crazy Chicken Crunchies Spicy Tom Yam is currently 50% off when you order the Cheese Burst Meal online.
P.S. Do ask me along if you guys are going for some Domino's Pizza k?
Muahz,
Christina aka Huney