Hi Huneybees,
"Honey, I Shrunk the Kids"
was my all time favorite classic movie and recently
Kiehl's
had a campaign called
"Honey, I Shrunk Your Pores"
in conjunction with their
latest limited edition
launch -
Rare Earth Deep Pore Cleansing Masque,
this May to raise
awareness for the children from Autism Association (Singapore).
Maintaining its long-standing tradition of supporting children's causes by raising awareness and funds to create safer, more positive environments for children,
Kiehl's is pleased to announce a collaboration with talented actor/ host/ model, George Young, FLY Entertainment Artiste.



"Growing up with two autistic brothers, I'm acutely aware how autism affects the lives of both the people with the condition, and those that love and care for them. It's a condition that deserves more awareness, understanding and research into treatment and therapy, and I'm therefore proud to partner with Kiehl's in a project that helps to do just that." ---George Young, FLY Entertainment Artiste
The
Rare Earth Deep Pore Cleansing Masque
,
made from the Amazonian White Clay, is a unique formula rich in minerals to help eliminate impurities in our pores. It effectively helps to minimize pores and purify our skin. HONEY! I SHRUNK YOUR PORES!!
The product is a light grey, as though Volcanic Ash was added.
Like any masques in the market,
the
Rare Earth Deep Pore Cleansing Masque
, tightens and firms my skin, but an additional point would be shrinking the pores! I could totally see the difference and even more drastic when I used it on my hubby.
After using, our skin glowed and I really shrunk my Honey's pores.
His face became so much cleaner and the pores became finer. Both he and I are big fans of this masque now, shrinking pores for each other. Talk about bedroom fun... Hehehe...
Kiehl's will be donating 100% of the nett proceeds from the sale of the Limited Edition Rare Earth Deep Pore Cleansing Masque 142g, featuring the works of Ketna Patel, Asia Pop Art Artist, to Autism Association (Singapore) for renovation work in Eden Children's Centre (Clementi and Simei).
If you have already gotten yourself a tub, why not share the joys online? Feel free to take a photo of yourself using the Rare Earth Deep Pore Cleansing Masque (S$45) and upload it onto Kiehl's page - https://www.facebook.com/KiehlsSG!
Here's more of me and hubby with our masque-d faces and enjoying our shrinking time.
Go get a tub and have a shrinking fun time today... What's more, it's doing good for the kids. Don't hesitate!
On a side note, Mr. Bones (the icon of Kiehl's) will also be doing his part for charity. He is designed and hand-painted by Ketna Patel to coincide with the launch of Kiehl's charity campaign "Children of Our Rare Earth". 100% of the winning bid will be donated to The Autism Association (Singapore), for the renovation of the 2 children centers. There is only one of him!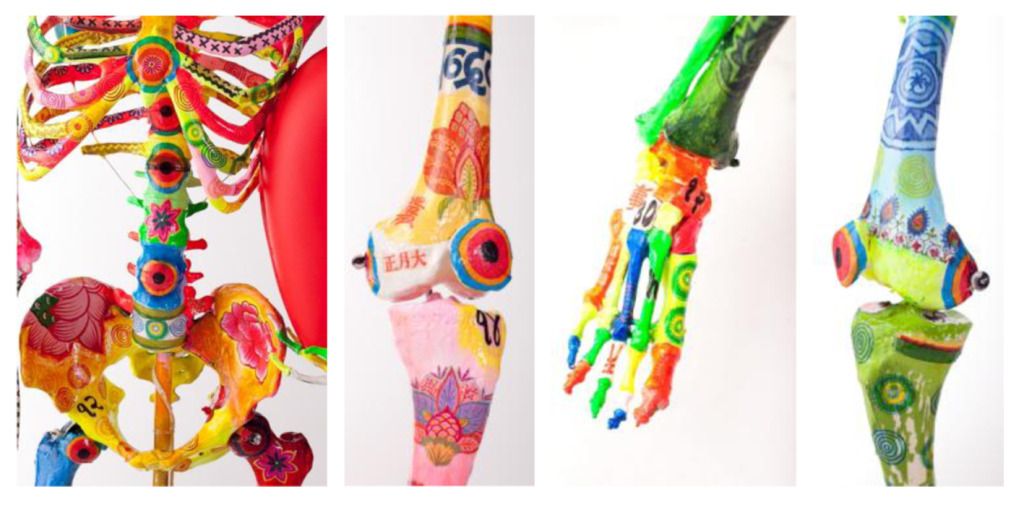 To bid, simply send in your name, contact number, company name (if applicable), email address and bid* in SGD to Chan Syek Yi at sychan@sg.loreal.comby 31st May 2012 11.59pm.
Updates on the bids will be posted on 'KiehlsSG' Facebook Fan page.
*minimum going bid is SGD5,000